The next Kundalini Yoga teacher training Level 1 starts in June 2021.
The level 1 Kundalini Yoga teacher training is designed to deepen and broaden your knowledge of Kundalini Yoga. You will receive the theory, practice and experience needed to develop into a professional Kundalini Yoga teacher. The training is an exceptional learning opportunity for everyone interested in a healthy and conscious life.
The training consists of five weekends, a full week and the examination weekend. Weekends will start at 19:00 on Friday and end at around 17:00 on Sunday. Every day starts with Sadhana, a morning discipline that will make you physically strong and mentally balanced. Days are filled with theory lessons, yoga, meditation, group assignments and outdoor activities.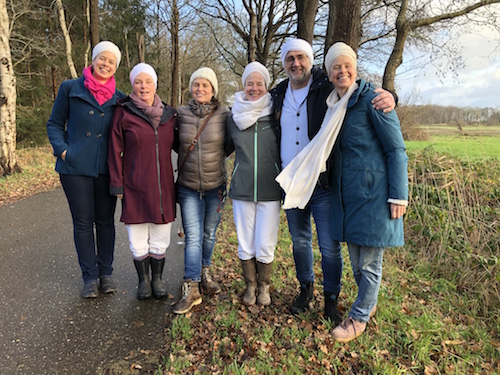 INTRODUCTION WORKSHOP
Tuesday April 6 and May 11, 2021 we organise an introduction workshop. It is a nice way to get to know the team, to practice some yoga and meditation together and ask us all your questions. Due to the current corona measures the workshop will take place online; after your registration we will send you a Zoom link. When registering please let us know which of the dates you would like to participate.
Date:         Tuesday April 6 and May 11, 2021
Time:        19.30 – 20.30
Location:  Online via Zoom
Register:   giandev@divinehuman.eu